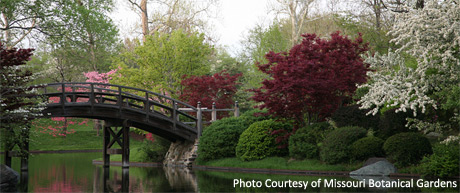 Immersed, I took in the sounds of screeching birds and pushed huge leaves from my path as I made my way to investigate the bursts of color that were still just a blur in the distance. I pressed on. After dodging the occasional puddle, I discovered the tropical pink pineapples, deep violet banana blossoms sprouting from their tree top perches some 25-feet above me and bright white orchids, all sprinkled with water droplets. The air felt even more moist than the flowers looked and I realized it was at least 20 degrees hotter than only just moments ago, yet somehow the sound of rushing streams made it seem less sweltering. As I wiped the sweat from my forehead, I almost forgot this was early March in downtown St. Louis.
I thought to myself that a botanical garden was an entertainment option most people don't take advantage of in the big city. It was then that I realized that St. Louis was more than an arch, blues and riverboat gambling—it could be a natural oasis too. The Missouri Botanical Garden's Climatron Conservatory hosts not only these plants but also displays an array of exotic animals, like poison frogs and puffer fish, and is just one of the 31 gardens and conservatories that stretch over some seventy-nine acres.
When back outdoors, I followed a walkway through electric blue magnolias and fountains, going from garden to garden and it even afforded me a pass by the 1850s Victorian estate of Englishman Henry Shaw, who founded the garden in 1859.
The English Woodland Garden certainly made up in aroma what it lacked in color. Among the simple green and brown, with only an occasional burst of yellow daffodils, I felt my eyes almost sting from the strong pine scent. The Boxwood Garden was full of walled hedges arranged in a maze I could have easily gotten lost in had they been taller than my knee. Manicured in the shape of an ancient emblem, this garden seemed to be stolen right out of another time. I stayed longer there than I did at any other garden, taking my time admiring the precision and craftsman ship—and resting.
After a break, I was eager to see the famous Seiwa-en Japanese landscape garden and it wasn't long before I started noticing the perfectly rounded bushes and carefully drawn lines in the sand around them, known as Karesansui. Amidst the stone walkways and willows exploding in lavender blossoms was an old bridge where I fed the hungry aquatic animals below. I tossed the food over the side and had to laugh as I watched the ducks in fierce competition for my meager gifts of sustenance with the giant koi fish, who were considerably bigger. The downfall of this visit, aside from sore legs, was that I came too early to see the orchid show, which employees say is a favorite among visitors, who come from all over the world. They´ve met people who come from as far away as South Africa. Not bad for $8 a head, leg workout included free of charge.
The next day I found myself wiping my brow again as I entered the tropical conservatory at the Butterfly House in Faust Park. Approximately 60 species of butterflies from all over the world filled the room. Their sizes varied from as small as my palm to as big as my hand. Amongst the huge tropical plants, flashes of blood red, black, lime green, lemon yellow, purple and light and dark blues appeared and disappeared in the same instant right in front of me making the experience as nerve-racking as it was exhilarating, mostly because of the caution signs warning not to touch the butterflies, as it could injure or kill them. I found myself adopting a walking rhythm of slow, leery starts and panicked, abrupt stops when one would dart out in front of me. I regretted bringing my purse too. After a few accidental swings and close calls, I learned to keep it clutched to my side. Elsewhere in the Butterfly House are some not so desirable creatures like giant cockroaches, rhinoceros beetles and millipedes. The House, started eight years ago by Sohpia M. Sachs, is an educational facility, after all. So, though I groaned through it making faces, I figured it is only fair to display a full range of the Earth's bugs, beautiful or not and I can put up with anything with a mere $6 admission.
The place that was most expensive and farthest to get to may have been the best of all three. The Meramec Caverns, located in Stanton, Mo., an hour outside the city, opened to the public in 1933. Further exploration revealed 26 miles of underground passages and as I found out, those 26 miles held a past full of rich history, natural phenomena and, surprisingly, pop culture.
It was the first time on this trip I was chilly as my tour group entered the first and largest of the cave's rooms—the ballroom. It is not a nickname. Socials were held here in the 1930s as much as Boy Scout meetings are today. Complete with a disco ball, it houses up to 3,000 people. As green, blue, yellow and red lights lit the way, we were led through winding walkways with some low ceilings and up 58 slippery steps, which the guide later admitted to me was tourists' least favorite part. One of our first stops was at Loot Rock, where Jesse James and his crew hid out from police. A million scenarios ran through my mind when the tour guide the pointed out the bear dens no more than ten feet away from it. We were also shown secret places where gun powder was made during the Civil War.
Hollywood has even been attracted to the cave on occasion. We were shown the spots where scenes were shot for Lassie, the famous fight between Tom Sawyer and Injun Joe in the film Tom and Huck and an episode of the show People Are Funny, in which two newlyweds got tricked into staying in one of the caves for a ten-day honeymoon.
It is a magnificent cavern that extends 364 feet below the ground and seven stories above it. The most fascinating parts of the tour for me were the formations, taking on shapes of a wine table, a curtain of stalactites up to 70 feet long and Onyx Mountain. This 33 million year old underground mountain is the 3rd largest in the world. While one side glows in peach, white and pale blue hues, the other side was black and dying from a lack of oxygen. Maybe the most intriguing feature of all was what the locals affectionately call Adam and Eve, a stalactite and stalagmite directly aligned and are the closest in the world to meeting and forming a column. On my way out, I decided that I would pay another $15 and do it all over again if I didn't have to be back home the next day.
These special places showed me people can escape tourist traps and get to see what else there is to a big city other than concrete and congestion. When I looked past the typical big buildings, crowded bars and constant road rage, I found a whole new wild side to St. Louis.
https://www.internationaltravel.ws/wp-content/uploads/2010/08/japanese-garden.jpg
193
460
daniel
daniel
2010-08-27 18:16:12
2010-08-27 18:16:12
St. Louis´ Other Wild Side