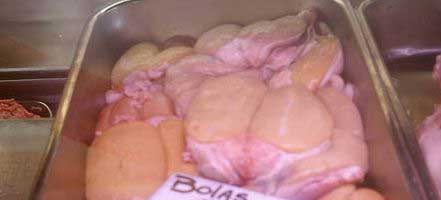 We're crazy for criadillas! There are two types of criadillas in Spain, one is flora and one is fauna. Let's start with the fauna first. Spanish bulls are known for their fierceness in the ring and their testicles are fantastic when done up in the fryer! Affectionately known in the USA as "bull's balls" or "rocky mountain oysters", in Spain criadillas, also called huevos de toro ("bull's eggs"), are a delicacy, albeit an unusual one. They are rumoured to give the male that consumes them superior performance in the bedroom!  Fortunately this delicacy is first removed from the bull at slaughter and later pounded, floured, spiced and fried and finally end up as an hors d'oeuvre with a perfect cocktail sauce to compliment.
The second type is a Peruvian potato variety affectionately called criadillas that made it's way to Europe in the 1500's!  Spain is known the world over for it's numerous varieties of potatoes. This fact probably, at least partially, explains why five of the world's top ten chefs are to be found in Spain. The spuds known as criadillas are no stranger to the cuisine-conscious Spaniards and have an amazing texture which is used as a foundation for several meat and fish dishes. They are versatile, creamy and coveted amongst the European haute cuisine crowd.
https://www.internationaltravel.ws/wp-content/uploads/2011/07/balls.jpg
200
441
naia
naia
2011-07-17 22:53:03
2011-07-17 22:53:03
"Criadillas" AKA: Rocky Mountain Oysters or Potatoes?