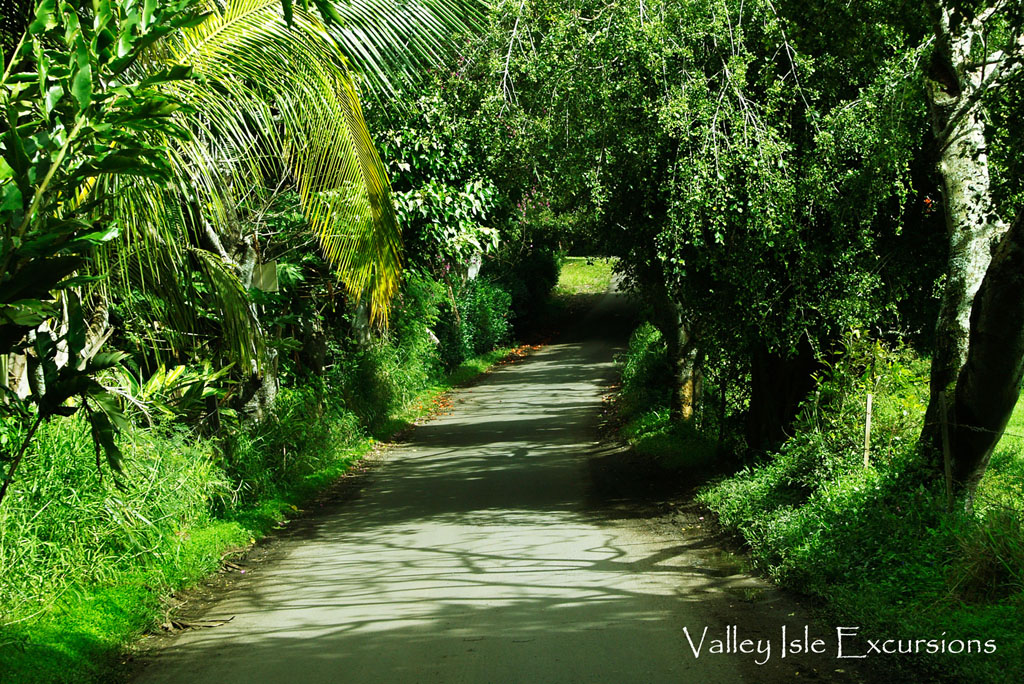 It's easy to drive the road to Hana and see all the beauty along the way, but it's hard to imagine what it was like living here in ancient times.  I've been on all kinds of tours all over the world.  I enjoy them because as a photographer and writer, it's wonderful to have a guide to not only tell the stories of the land and people but to have someone to ask questions.  It often spurs my own imagination and gives me great research tips and things to track down later.  Many people on vacation often miss out on this information when they drive the road to Hana themselves.  They think in mainland terms such as "when we get to Hana we'll stop and have lunch", or "it's only like 30 miles to Hana, we'll be there in no time".  Unfortunately, hours later when they arrive motion sick and dizzy from the winding road they realize Hana is a small town, I mean really small!  Driving through town to Hana bay is about a 2 minute drive.  But as you round the corner and see the canoes on the beach and the park pavilions with their concrete picnic tables don't let the seemingly tranquil bay fool you.  At the far end of the bay where the boat dock is, look up to your right at the large hill sitting right on the bay.  This is Kau'iki Hill, and is a famous cornerstone in the history of the entire Hawaiian Island chain.
Hana Bay, Maui
In ancient Hawaii, Hana was an area favored by the Alii (royalty) and was the seat of power for the entire island.  One of these kings, who was of the great Piilani family of Maui chiefs*,  commissioned a road be built around the whole island. It took this king most of his lifetime and that of his two sons to finish it, but it united the villages and chiefs of Maui, and made this island one of the most powerful of all the islands.  So powerful in fact, that it was a major goal of Kamehameha to conquer it.
Over the centuries, stories have evolved which explain that Hana was attacked at least 4 times by invaders from the big island*.  This area changed hands with Hawaii chiefs several times and these stories of legendary battles were passed down for generations through chants. The fighting skill of the Maui warriors was well known on the Big Island, and they were well aware of the difficulty of taking Kau'iki Hill.   Kua'iki Hill could be seen from ocean going canoes and was a landmark for people coming as far away as the island of Kauai.  The chiefs and warriors of Hana were fierce fighters and many chants tell the tale of battles that raged from Kaupo to Nahiku, but over the centuries it was known that the fortified hill of Kua'iki was the last stand for defending Maui Chiefs*.
Maui for years, but finally achieved it himself in what is estimated to be the 1790's.  It took a fleet of 1000 canoes carrying an estimated 100 warriors each*.  This invading fleet of canoes filled every bay from Wainapanapa to Kipahulu.  The battles lasted for months and the Maui warriors beat these forces back several times.
It is said that the warriors of Hana had a unique style of warfare in which they used slings and stones which enabled them to damage and even sink canoes from shore.  But the sheer numbers of invaders was too much to overcome, and the people fell back to their fortified fortress of Kau'iki Hill.  Even though it was well provisioned with food, spears and stones to throw down upon advancing fighters, Kamehameha found a weakness.  Freshwater springs existed on the eastern flank of the hill, and one of his trusted commanders found it and destroyed it in the dark of night.  
Eventually the hill was surrendered and Kamehameha moved on to battle the last of Maui's chiefs in Iao Valley, where the waters ran red with the blood of so many killed.
Today Hana is one of the most peaceful and friendly places on Maui.  It's beauty is heavenly, and this is how it should be experienced, but keep in mind that this beauty was fiercely fought for in ancient Hawaii, so please respect this hallowed ground and tread lightly.  Oh, and take your time and enjoy it, because it really is the land of royalty.
Aloha Nui Loa
*Moses Manu, The Story of Kihapiilani,Ka Nupepa Kuokoa, Aug. 9, 1884.  MS SC Sterling
*S.M. Kamakau, Ruling Chiefs of Hawaii, Translated from the newspaper Ke Au Okoa  1961 SC Sterling
*Abraham Fornander, An Account of the Polynesian Race: Its Origins and Migrations  London 1876-85
*Pi'opi'o State Park signage- Hilo, Hawaii – Kamehameha Schools Alumni Association, Mamalahoe Chapter
https://www.internationaltravel.ws/wp-content/uploads/2012/06/road-3.jpg
684
1024
doug
doug
2012-06-14 21:19:35
2012-06-14 21:19:35
Kau'iki Hill - Hana Maui