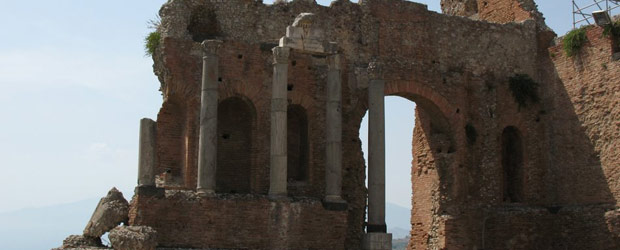 Taormina has been in existence for over 2500 years. It sits high up on the hills above the salty Iaoian Sea with a ancient Saracen Citadel above it.   The citadel is not in good condition but The Greek Theatre is.  It was started by the Greeks and expanded by the Romans over the next 5 centuries.  It's incredible location overlooking the ancient port of Nexos makes a beautiful stage backdrop.
[scrollGallery id=6]
Our journey into Taormina took us past Mount Etna, a 10,000′ + active volcano's with lava flows we can see from the road.  We drove 1/2 hour through a couple long tunnels to get to the beach house.   We stayed in a beautiful 4 story beach house overlooking one of the prettiest bays in the area.  The water was definitely salty but very warm.  It was a great place to swim and the girl loved to play in it.  The beaches were not sandy like we are used to but a rocky beach which was a nice change. We wandered up into the city and enjoyed the walk through town.  The view from there was spectacular.   There we saw one of the narrowest streets in Italy. You shoulders brushes the walls as you walk.   We spent many hours sitting on the porch, enjoying the view. While in Toarmina for those few short days we visited a few restaurants and bars.  The one restaurant just down the street was wonderful.  We had a great time and the food was excellent.  We also checked out a bar in a little village about Taormina.  It was a 4 story bar with an amazing view of the lava flows and Catania.  The bar was nice and has occupied the place for over 150 years.  The decor of the place caught me a bit off guard and we thought it was funny. After visiting that place we decided to take a drive up the mountain.  It was very dark and cold, so we didn't even feel like getting out of the car.  We couldn't see anything and we didn't have a light to help guide us up to the lookout.  We headed back down the mountain and home to relax in the warmth by the sea.
https://www.internationaltravel.ws/wp-content/uploads/2011/02/greektheatre.jpg
250
620
daniel
daniel
2010-08-28 00:20:48
2010-08-28 00:20:48
Taormina, A Legendary Town