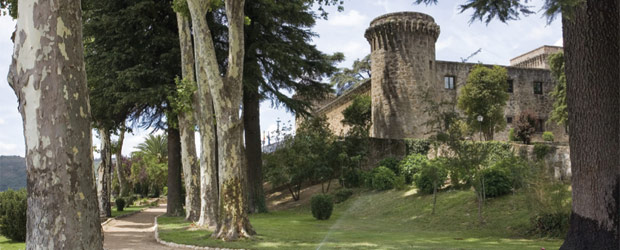 Sweet Dreams Are Made Of These
Since 1928, the Spanish government at the initiative of Marqués Vega Inclán, King Alfonso XIII  opened the first Hotel Parador of Tourism in the heart of the Gredos Mountain range in Navarredonda de Gredos, Ávila.  For the last 82 years, the Parador Hotel Network has been rescuing ancient hilltop castles, intriguing historic fortresses, impressively enchanting monasteries, majestic medieval convents, princely palatial mansions, massive octagonal stronghold towers and noblemen´s manor houses. Additionally, they have been recruiting internationally renowned architect teams and restoration specialists to transform them into privileged paradises with 21st century comfort and hotels featuring superior amenities without losing their extraordinaire ambiances, fabled characters and historic circa details.
Furthermore, they are offering around the Iberian peninsula, expertise in the art of seducing palates with their  93 regional Tasters´ lunch and dinner cartes between 27 Euros – 32.50 Euros. My friend, and intercambio, Ana Maria Martin and I believe all 93 are worth visiting 365 days a year.  Noted for maintaining their original concepts, one of which states, to act as the guardians of Spanish national artistic heritage while promoting superior quality tourism and dynamizing those regions that are lesser known. Now in the 21st millennium, the Parador Network maintains the founding principles while adopting them to the guests of today at all 93 of their spectacular establishments. Hasta invierno.
The Parador Network's Extra Virgin Olive Oil Tastings
The long story of Spanish olive oil production has taken an unexpected twist. Botanists, chemists, journalists, sommeliers, olive oil makers, chefs and restaurateurs have laboriously worked their way back to concentrate on the oils´ natural starting point, the fruit itself. The Parador Hotel Network is providing their guests with a finely tuned tasting profile.
A handful of olive oil varieties we sampled are:
Almaszaras de La Subbética, S.C.A.
D.O. Carcabuey, Córdoba
Olive Variety:  100% Hojiblanca
Production: Ecological Organic Method
Tasting Notes: Equilibrium, complexity with green apple, herbs & spearmint
Almaszaras de La Subbética, S.C.A.
D.O. Carcabuey, Cordóba
Olive Variety: Hojiblanca and Picuda
Production: Conventional
Tasting Notes: Lightly almond reflecting an unusual equilibrium with piquant and bitter notes
Aceites Campo Liva, S.L.
D.O. Pegalajar, Jaén
Olive Variety:  Picual, Hojiblanca, Arbequina & Frantoio
Production: Conventional
Tasting Notes: Green almonds, aromatic herbs and green Apple
Rodau, S.L.
D.O. Torroella de Fluvià, Girona
Olive Variety: Arbequina, Hojiblanca & Koreneiki
Production: Conventional
Tasting Notes:  Mature fruit, green apples & green almond
https://www.internationaltravel.ws/wp-content/uploads/2011/02/parador-castle.jpg
250
620
margaux
margaux
2011-02-25 03:53:38
2011-02-25 03:53:38
The Guardians of Spanish Heritage - The Parador Hotels