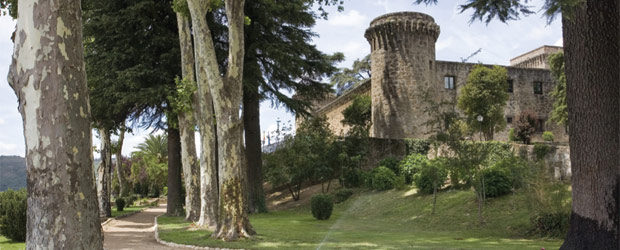 Located in the county of La Vera, Cáceres, snuggly nestled in the Gredos Mountain Range, the XV century restored castle of Emperor Carlos V, the royal gem of the Renaissance awaits you.
Emperor Carlos V was the most powerful man in the world during his reign and resided in this historic 15th century castle for a few months before retiring to the Yuste Monastery,  8 km away in Cuacos. This renovated four star hotel is a fortified 15th century castle which dates back to the Counts of Oropesa and was built over the ruins of a fortress that had been reconstructed  centuries later and was inhabited by King Alfonso XIII.
It has all that a castle should have, a Blue Room with a fireplace and 15th century tapestries, a Salon of Portraits, a Patio of Arms,  robust corner towers, migrating storks, embrasures, machicolations, turrets which are the small projecting armed structures for gunners, and heraldic shield crests.  The Italian Renaissance prevails throughout and the dining room views lookout onto a beautiful courtyard.  The grounds include walking paths with delightful gardens chock full of orange trees, ancient eucalyptus trees, palm trees, lilac bushes and a lovely swimming pool.
Without sacrificing the original structures, one enters across a drawbridge between two cubic fortress towers. The courtyard is a sanctuary covered in ivy, shaded by palms depicting the region's micro climate and houses a fountain, creating the privileged paradise for after dinner conversation through late autumn.  Conquering visitors' emotions, this is a nobleman's castle in every sense of the word.
Nobel Room 219 With Balcony Over Gardens
Our room, one of the best in the house, can be found nestled amidst the gardens, complete with balcony, providing royal refuge in this privileged paradise of sweet dreams.
Capacity Data For Bookings
The three story castle houses 52 renovated rooms which seduce and house the treasures of royalty in its salons and communal spaces. Emperor Carlos V dwelled in the castle from November 12th, 1556 until February 3rd, 1557 prior to his retirement. Debonaire Maîtré Julian Sevila informed us that the hotel is fully equipped for those requiring handicapped railings, business conventions, christenings, celebrations and weddings with a capacity for 250 people. The restaurant 's capacity holds up to 80 people and special breakfasts for up to 60 people.
Chef Juan Antonio Ramos De La Calle
Mar:  Tell us about the  specialties of the house.
Juan:  Firstly, designation of origin, La Vera is renowned for their goat cheeses and the 4 varieties  I believe you both would enjoy are:  QUESUCO BLUE VEIN which has a very creamy texture and is similar to Asturian Picón Azul, PIMENTON which has a paprika cayenne rind and is a semi soft variety, the French style roll or RULO and the ECOLOGICAL mild semi soft.
Mar:  What is your culinary philosophy  ?
Juan:  It has always been clear. To cook with what the environment produces, a united team, to teach, the content, the affection, new technology and the traditional with the regional and seasonal, the product and the textures. I am sort of an Extremaduran Santi Santamaria.
Mar:  Where are you from Juan Antonio ?
Juan:  Across the street,  I was born in the historic town of Jarandilla de La Vera.
Mar:  What are the autumn products you employ in your menus?
Juan:  Partridge, quail, rabbit, wild mushrooms, Boletus Eduli and Niscalos, boar, fresh figs, La Vera paprika varieities, Iberian acorn fed ham, codfish, fresh river carp, fresh trout and herrings.
Mar:  Dream trips?
Juan: China culturally and Seychelles to relax.
Mar:  Where have you studied and in which Parador Hotels have you worked to date?
Juan:  I studied at the Gastronomic Institute in La Bañeza, Leó close to Astorga. I have worked in various Parador Hotels including, Valle de Aran, Málaga, Zamora City and since 1998, in my home town of Jarandilla de La Vera.
Mar:  Which celebrities and/or famous well knowns have you cooked for?
Juan: I have cooked for the various members of the Royal Family, former Prime Minister, Felipe Gonzalez,  government officials, singers Shakira and Alejandro Sanz who have homes here in Jarandilla de La Vera.
Mar:  Tell us about innovation and the road to success.
Juan:  A lot of  Innovation, fusion of ingredients, evolutionary technology, textures, colors, research, experimentation and "A to Z" styles.
Mar:  This is a stunning area, however, what products do you miss the most ?
Juan:  A larger assortment of Ribera del Duero red wines and shellfish. We can obtain the ocean´s fresh catches however, we have to utilize them much more promptly.
Mar:  Do you listen to music in your kitchen while preparing?
Juan:  I am a flamenco guitarist and this inspires me.
The Emperor's Table
White wine Lar de Barros 100% Macabeo Grape 2009
Assorted designation of origin cold cut Deli Meats and Cheeses
French style onion soup created with fowl stock
Warm smoked herrings with scalded eggs
Stuffed aubergines stuffed with hake and baked apple sliced
Seared on flame tender mouthwatering octopus
Quail in port wine and spiced pear
A buñuelo, fusion between a Doughnut  & French toast bread,  pine nuts & creamed goat cheese filling
Parador  Hotel & Restaurant Carlos V
Avda. García Prieto 1
Jarandilla de La Vera,  Cáceres 10450
Multilingual Website:  www.parador.es
Madrid Central Reservations:   91. 561. 6666
Headquarters at   Calle Requena 3
Metroline 5 / Ópera
https://www.internationaltravel.ws/wp-content/uploads/2011/02/parador-castle1.jpg
250
620
margaux
margaux
2011-02-25 03:35:14
2011-02-25 03:35:14
Fabled Castle Dropt From Heaven