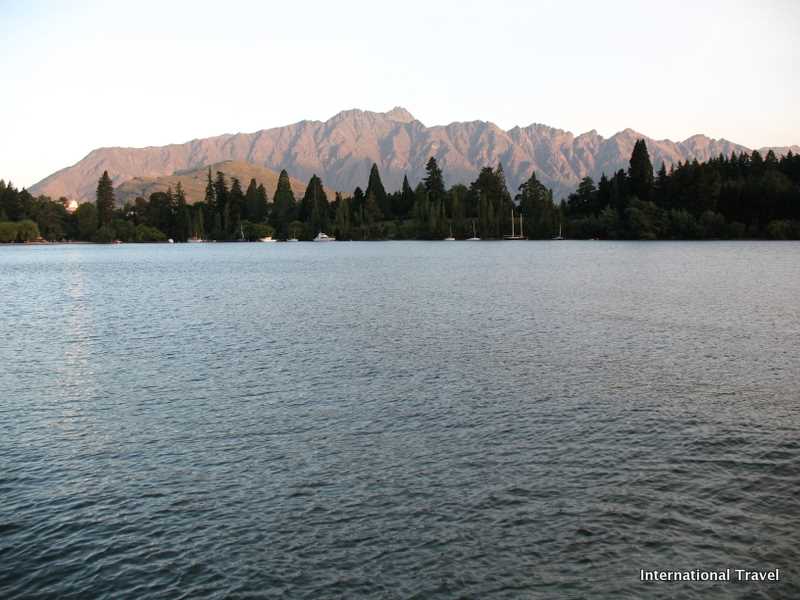 Driving into Queenstown we can feel our blood pressures rising.   Maybe it's the advertisements for all of the activities?  Or perhaps it is the incredible energy of the natural beauty of the area permeating through to our souls, somehow resonating a wakeup call deep within, down where the kid in us lives?  One may never know but there is something special about New Zealand, and Queenstown in particular.  Summertime fills the streets with all ages.  The ambiance of the town is that of a mountain village.  Quaint, yet has all of the modern day conveniences you could want, including an organic food store.  Not only do they have extra long days, oftentimes adventure seeking tourists will be found frolicking between the amazing glacier fed river and the rugged, mountainous peaks.  It is there that we see the occasional dingy, the odd parachute, sometimes occupied, sometimes not.  Almost always there was someone talking about doing something "on the edge", as it should be.  NZ is known for it's extreme sports.  Queenstown is an amazing place to get the thrill of your life and come out virtually unscathed if you follow every safety precaution, and to take your chances with Lady Luck if you don't.
[scrollGallery id=3]
Welcome to the land of extreme… EVERYTHING!  Bungy jumping was invented here, among otherterrifying things you can do with and to our bodies.   The bungy bridge, from which you would throw yourself, crosses a raging ice cold river, with steep, completely unforgiving cliffs on either side setting the stage for the full-on adrenaline rush!  The amount of adrenaline junkies that come to Queenstown is staggering, and they come year round.  Why?  Oh, because the other activities may include, but are certainly not limited to: jet boating, sky diving, heli-skiing, swinging, paragliding, white water rafting and canyoning, all of which is world class.
Queenstown was born out of New Zealand's Gold Rush.   It has relatively easy access to the river, lake and most of the region.  Driving from Dunedin is quite quick but there are many stops you can take if you so choose.  We even went panning for gold at an old gold rush operation.  Yes, it's a tourist trap, but a fun and educational one.  Tourism took over later here than in the US, so the charm of Queenstown has been carefully scripted as you will see when you take a quick tour of the little town.  There are a few old buildings which are in use as public spaces and restaurants, but the Queenstown you see today is mostly new.  A plethora of shoppes and restaurants await, not to mention excellent day spas and alternative health care for your ailing body.  Be sure to book ahead and make your appointments for body repair immediately after you've gone out and done your worst to it.
Certainly one of the main attractions to Queenstown is the fact that it has a dual dichotomy.  It has both the extreme and the serene.  It was a lovely walk along the crystal blue lake just made us wish we were better painters and photographers so that we could do nature justice.  Hot summer days repeatedly turned our minds to the turquoise waters of the lake.  The mercury rising made those shimmering waters look oh so inviting, until we thoughtfully reminded ourselves that it's colder, much, much colder than we could ever want it to be.  So, if you are adventurous, impervious to cold, (AKA: are a superhero), or are willing to don a drysuit, surely there is a fun time to be had by all!
Dusk approached and seemingly, out of nowhere, a handful of street performers dotted the pier area while the sun did it's final dance of the day on the water.  A fiery blur of gold giving way to wavy swirls of magenta, indigo and ending on the edges with the darkness of night creeping in brought a perfect ending to a lovely day.  It was so relaxing and the weather was perfect.  Spending a summer holiday in Queenstown is superb on every level.  It's one of those places that you might daydream about and find yourself saying quietly, "I could live here… or maybe at least have a little hideaway".
Queenstown is perfectly situated as a stop over point when on your way to a Doubtful sound cruise.  We booked a Christmas Eve Cruise Special and decided to try the smaller, family-owned Deep Cove Charters.  It turned out to be an excellent choice and one of the most amazing experiences we have had in NZ.   Summer in Queenstown is warm, chilly and everything in between, so pack accordingly.  If you plan on being outside for any duration, get the Tui Balm and slathe it on all exposed areas.  The sand flies love and live off of the tourists.  They might be small, but they're mighty… mighty painful!  The locals say that after a few years they don't get bothered by them anymore but if you're not bug resistant, get the balm.  Sand flies are a formidable force to reckon with on a hike, camping trip or just getting out of the car at certain times of the day.
Overall, summer is beautiful here, don't forget the musthave's are a hat, sunglasses, sunscreen, bug repellent, to bring clothes with long sleeves and pants, good hiking boots, an extra jacket and your sense of adventure.  I can't imagine anywhere else being more exciting than Queenstown.  Luckily, it's my job to keep looking!  Having hardly begun our drive back to Christchurch, our conversation had turned almost immediately to our next visit to the Queenstown area during the winter to do a more in depth review it's fine accomodations, excellent restaurants, the Remarkables and other attractions.
https://www.internationaltravel.ws/wp-content/uploads/2010/11/IMG_0049.jpg
600
800
naia
naia
2010-11-03 00:55:51
2010-11-03 00:55:51
Queenstown - New Zealand's Adventure Capital