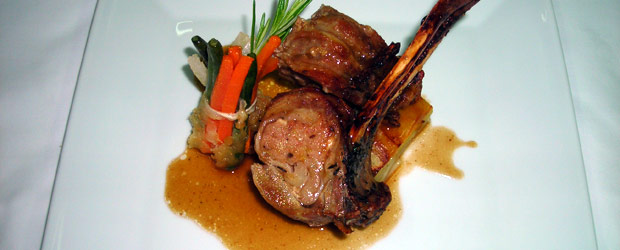 Ingredients:
Tell your Butcher to prepare 800g – 1 Kilo Milk fed baby lamb de-boned & split open like a book
150 g  Extremaduran Potatoes called Criadillas ( Galician or Peruvian potatoes can substitute )
150 g  sweet spring onions
100 g  leeks
1 dozen small Boletus mushrooms
5 or more  fresh garlic cloves
Thyme & Rosemary
Salt & Pepper
1 D.L.  Jerez white Sherry wine
Procedures:
Preheat oven  210  degrees centigrade or 425 degrees fahrenheit
Put the lamb bones which the butcher separated, spring onions chopped finely and the Jérez in a saucepan on low to medium flame
Place the lamb roast in a large roasting pan
Mince the sweet  spring onion & the leek
With a sharp small knife, make 1 inch deep slits in the lamb
Stuff the lamb with the leek, spring onion, minced garlic and finely chopped Boletus mushrooms
Rub or brush  olive oil on the lamb roast top and underside
Sprinkle with salt, pepper, rosemary & thyme
Peel and slice the potatoes in 1" ovals & place the lamb on top of the tubers
These potatoes are going to serve as the foundation bed for the lamb
Reduce the sauce and cover.  Baste lamb and add a little more Sherry & Water to pan.
https://www.internationaltravel.ws/wp-content/uploads/2011/02/Carret-de-cordero-rellenos-criadillas1.jpg
250
620
margaux
margaux
2011-02-25 02:30:46
2011-02-25 02:30:46
Chef Luis Mora's Autumn Roast Lamb, Wild Mushrooms & Potatoes