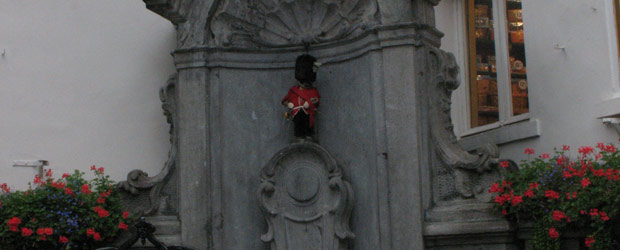 We walked out of the train station and were thrust into the heart of the multicultural city. Brussels is beautiful, small and fast paced. Our friend nearly got run over in his wheelchair! Purely by chance did Naia say something just in time. So if you are going to Brussels, keep your eye out for drivers who might not be looking for you, whether you are on foot or on bike.
One of the "Wow" moments of all our traveling in Europe was when we saw the Grand Palace and the overall staggering amount of gold in the city of Brussels. Because of thievery, the gold you see in most artwork and architecture is now maintained with gold paint where there used to be gold leaf, like on their government buildings, and if you're looking for it you'll see it in other less conspicuous spots as well. Honestly, each time we turned a corner it felt like the architecture was almost morphing into something out of our dreams about what that era must have been like… each building was more amazing than the last building we had just drooled over, and they just kept coming with each new block. Ah, Brussels!
[scrollGallery id=8]
Stories
Like France and Italy, Brussels' small streets contain many small, family-owned cafes and restaurants of distinction and impressive quality, offering a cornucopia of delight for every palette. Given the fact that we only had an afternoon in the chocolate and waffle capital of the world, we felt a wave of excitement when we realized we had to begin sampling right away! Plus, we could resist the dalliance of the scent of freshly cooked waffles wafting past our noses no longer and were drawn to a little roadside cafe. We immediately decided on beer and waffles. Ok, truth be known, the boys, Dan and our Dutch friend, Freek, had the alcoholic libations while Naia had a silky-smooth, coat your throat with divinity, perfect drinking temperature hot chocolate, which was one of the things on her list to experience while there. She liked it. She liked it a lot. She had to kick Dan under the table to keep him from drinking all of her cocoa, which meant it had his seal of approval! Naia took a sip of the beer which was a nice light/medium lager but didn't go too well with the cocoa, however it went well with the waffles, according to Dan and Freek, (pronounced 'Frake').
Matter of factly, the waffles were excellent. Our friend started Van's Waffles and described them perfectly to me one time. "Slightly crispy on the outside and heavenly on the inside." They felt so light and fluffy it made us wonder if we were in a dream… and then came out the strawberries and cream on the side! Perfection on a plate. A lovely time was had by all. Naia had decided to make a short list of a few things we could try while in Belgium. Some rich, dark chocolate covered almonds would prove to be a more difficult find than the perfect hot cocoa. Apparently dark chocolate powdered nuts are all the rage in Brussels. Naia was looking for smooth, shiny, dark chocolate covered almonds. They are naturally lower in fat, sugar and guilt!
Wondering what to do after our little culinary distraction, while outside the Grand Palace, we spotted the post cards. It was obvious that there is a love of statues here. Surprisingly, you can tell a lot about a place from the postcards. Let us just say that Belgians are distinct from their other EU neighbors. They will put up a statue of a little kid taking a leak and like magic, somehow it becomes a national landmark. Go figure. So, given this oddity, we had decided that our grand quest of the day was to find a statue of a peeing boy. Our not so grand, but would still be fun to accomplish, quests were the dark chocolate almonds and to experience some regular Belgian food. The boys also had their quest to be a little groggy from all of the grog by the time we had to get back on the train, which proved later to be a bit of a challenge. Not the drinking part, but the getting on the train part!
After finishing such a not-so-healthy treat, we needed to walk off the evil, but tasty, sugar, fat and calories. We went off on our adventure, the three of us and Asha. Overall, the city center was well planned out and easy to navigate. Thankfully, there were signs directing us to every place we wanted to see and a map was not necessary. Amsterdam could take a lesson from Brussels in making it user friendly to the tourists! It's very easy to get lost in Amsterdam when you are just visiting. We headed down to the Grand Palace and saw the bar that has 2001 different Belgian beers. The boys thought they should leave it for the next visit or they might have to call a cab! The LIttle Peer, as Naia dubbed him, was next to a shop where we got our chocolate almonds and, had we known this, we would have found The Little Peer a lot sooner. We spent about an hour and a half with Naia going into every chocolate store on the way to the peeing boy but no such luck. It was only after we found him and threw some pennies into the fountain that we scored the chocolate! Good thing we're not superstitious!
Finally, the third quest was to be fulfilled. Ah… success! Freek, (pronounced 'Frake'), took us to eat french fries but Belgian style while we were waiting near the train station. We were early. Naia nibbled on one, just to say she had them, while Dan and Freek devoured the dish. All three of us concluded that they were indeed tasty and also completely unhealthy. Perhaps next time we can explore the healthy chefs of the EU instead? Hmmm?
Train Station
Oh and by the way, there is one thing to remember when traveling by train in the EU, or just about anywhere these days for that matter. The station you arrived at when coming to Brussels isn't necessarily the one you will use to leave Brussels! Hahahah! Yep, we were waiting outside the wrong station! Simply make sure to check the train tickets for which station train departs from so that you don't miss it. Our train to Paris left from a different station than our arrival. We didn't realize this and we were waiting for a train that was never going to come since it was at a different station! Many European cities have more then 1 train station, depending on which direction they are traveling. It was a bit of a crazy journey but we made it to the correct station and caught the train just in time. It was the only train we took in our seven weeks in the EU that had wifi access. Aside from getting some emails done, Dan really liked it because he could map out directions to our hotel, which really helped make us feel more at home when we walked out of the Gare Du Nord in Paris. Leave it up to the Belgians to do the finest things in life just a bit finer.
Food & Dining
Small streets lined with restaurants cafes and pubs are like barnacles on the bottom of a boat… literally one on top of another! There is barely enough room to get through and it goes on for many blocks in every direction and it's delish!
Shopping Arcade
This glass covered shopping arcade is the oldest in Europe. Sint-Hubertus gallery was built in 1846 is just northeast of the Grand Palace. Eight of these galleries were built but only 3 has survived. The lower level has shops and the upper levels have apartments and condos.
Central Square
The Central Square is the heart of Brussels. It contains the Grand Palace and often hosts a busy market. It is claimed to be one of the most beautiful town squares in the world. In 1695 the square was bombed to ruins and was rebuilt completely by the commercial guilds.
https://www.internationaltravel.ws/wp-content/uploads/2011/02/manekenpis.jpg
250
620
naia
naia
2010-08-27 18:23:30
2010-08-27 18:23:30
Brussels