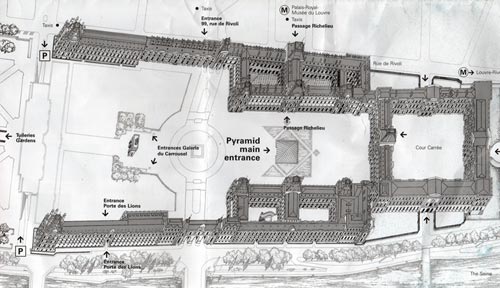 The Louvre Museum is located in central Paris in an old palace that holds Napoleon's Luxurious apartment. The museum is so huge that it is divided up in several ways. It is spread across four or five floors depending on how you look at it, The Pyramid Hall, Lower Ground, Ground, 1st and 2nd Floors. Those floors are then divided up into sections called, Richelieu, Sully and Denon. The museum collection includes Oriental, Egyptian, Greek, Etruscan and Roman Antiquities, Paintings, Sculptures, Prints, Drawings, Objects d'art and Arts of Islam.
Denon
This section holds:
Italian and Spanish Paintings
19th-Century French Paintings
Apollo Gallery, Crown Jewels
Italian, Spanish and Northern European Sculptures
Geek Etruscan and Roman Antiquities
Roman Egypt, Coptic Egypt
Arts of Africa, Asia, Oceania and the Americas
Richelieu
This section holds:
14th – 17th-century French Paintings
German, Flemish and Dutch Paintings
Northern Schools
Medieval, Renaissance, 17th and 19th-century Decorative Arts
Napoleon III Apartments
French Sculptures
Mesopotamia, Antique Iran Islamic Art
Sully
This section holds:
17th, 18th, 19th-century French Paintings
17th, 18th, 19th-century Drawings and Pastels
17th, 18th-century Decorative Arts
Greek, Etruscan and Roman Antiquities
Phoraonic Egypt,
Ancient Iran, Arabia, Levant
History of Louvre, Medieval Louvre
The Collections
Oriental Antiquities
This department presents the civilizations of the Ancient Near-East, Which go back to 7000BC and succeeded one another in Mesopotamia, Iran and the countries of the Levant, an immense territory stretching from the Mediterranean to India
Egyptian Antiquities
Created by Jean Francois Champollion, this department illustrates the art of Ancient Egypt from two different view-points; a chronological circuit, from the earliest times to Cleopatra, and a thematic circuit illustrating certain aspects of Egyptian civilization. Two sections devoted to the Coptic Egypt and Roman Egypt complete the display.
Greek, Etruscan and Roman Antiquities
This department includes works from three ancient civilizations: Greece, Etruria and Rome. On the ground floor, a chronological circuit, based on marble statuary, contains works starting from the third millennium BC up to the 6th century AD. The collection on the first floor is organized according to the techniques and materials used: bronzes and jewelery, silverware, glassware, figurines and terracotta vases.
Sculptures
European Sculpture, from the Late Middle Ages to the mid-19th century, is to be found in this department. The collections, which mainly include French works, also contain many significant pieces from Italy, Spain and Northern Europe.
Objects d'art
The collections in this department come from every era: items from the Middle Ages and the Renaissance, decorative arts from the 17th and 18th centuries, the Crown Jewels, 19th century items and furniture, Napoleon III apartments, etc.
Arts of Islam
Works of various Mediterranean countries, from Iran, Central Asia and India, which formed the lands of Islam are exhibited in this department. Some of the works are from the royal French collections. Most of these are ceramics, metals, ivories, woods, carpets and paintings dating from the 7th to the 19th centuries.
Prints and Drawings
Access to the Graphic Arts Department, consisting of the Drawing Cabinet (more then 100,000 works), the Edmond de Rothschild Collection and an engraved copper plate collection, is by prior arrangement only. The very fine but extremely fragile works are on display in regular temporary exhibitions and on a rota basis in the museum's main exhibition rooms.
Learn more about the Louvre Museum in Paris by visiting their website.
Museum Details
Reservations must be made in advanced for groups of 7 or more. The museum is open every day except Tuesday and certain public holidays. The main exhibitions are open from 9am to 6pm. On Wednesday and Fridays the museum is open till 10pm.
The price per person is 9 euros and entrance after 6pm is 6 euros. Free admission for everyone under 18. Free admission for those under 26 on Friday evenings only. On the first Sunday of every month the museum is free of charge to everyone.
The museum has an 420 seat auditorium that features Archeology, art history, literature, cinema, and music: symposiums, lectures, films, concerts and performances for young people.
Food and drink available at the museum is located under the pyramid. There is a gourmet restaurant, Le Grand Louvre, a few cafes & tearooms, and a cafeteria.
General Information Call : 01 40 20 53 17
https://www.internationaltravel.ws/wp-content/uploads/2010/08/louvre-map-small.jpg
288
500
daniel
daniel
2010-08-27 20:50:45
2010-08-27 20:50:45
The Louvre Museum