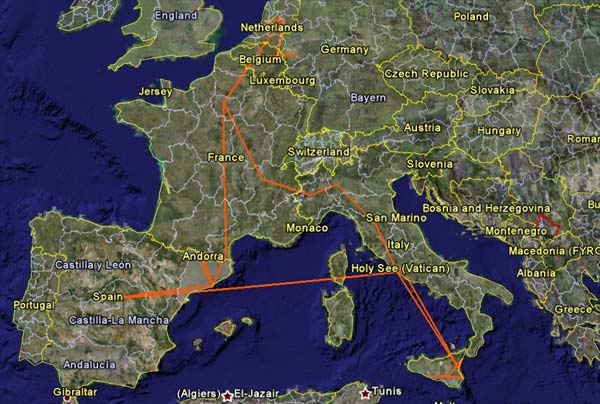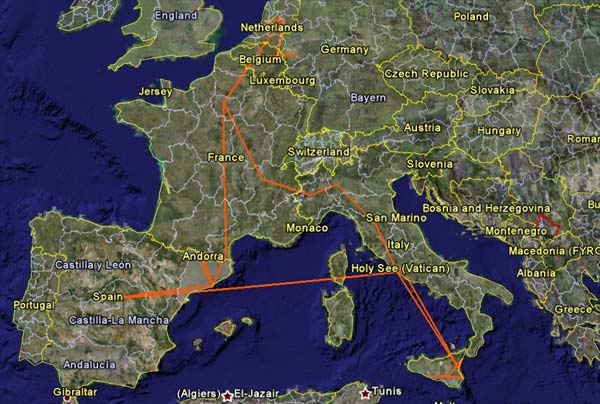 Our travels to Europe started in late August 2008. It would be my husband's first adventure on another continent. The trip we dreamed up would allow us to experience a good overview of the western side of the continent, visit the major western cities like Amsterdam, Paris, Florence, Rome, Barcelona and Madrid in style, but without having to sell our first born to do it. Since we had our cute little eight month old baby along for the trip, this was imperative! I had already been to England, Ireland, Denmark, Germany, Northern Italy and the South of France. We wanted to make sure we didn't repeat any spot I'd stayed in already so that the trip would be equally exciting for both of us. We had an incredibly tight schedule. We had to be back in the U.S. to go to North Carolina to meet at our friend, Bud's beach house in Nags Head. My family would be meeting us there in a mere 6 weeks. Looking back now, our journey to the EU was simply incredible and we definitely are planning on going back, maybe even living there.
Below are the countries and the places we visited during our trip of a lifetime in Europe. The countries and the cities listed are in order of visitation. We visited 8 countries and 9 major cities if you include the Vatican and Vatican City as ones. We spent at most only 6 days in one location which made the trip seem to go by pretty fast.
Netherlands
We started our tour of Holland by staying in an apartment in Amsterdam, on the canals, for a few days to shake off the jet lag, which is a formidable opponent, then moved onto Kampen and the province of Overijessel. Our reasons for visiting this area were numerous but the main reasons were friends who lived there and the fact that Dan's father lived there until he moved to Canada at age 7, right after WWII. We then traveled down to the south of the Netherlands to Maastricht to check out one of the oldest cities in Holland. We made Maastricht our base for day trips to Cologne and Brussels.
Germany
Cologne was our only stop in Germany and it was for just one day. Our goal here was to visit the cathedral, eat some good German sausages and sample the beer. We had a great day and it was a packed one with lots of adventure.
Belgium
We spent only an afternoon in Brussels but it gave us time to taste some Belgian beer and waffles. We spent a good bit of time wandering around the city in search of the peeing boy, (Yes, that's right., a peeing boy is a major tourist attraction, go figure!), the Palace and Central Square.
France
Sadly, our only stop in France was Paris. I must say how much Paris had changed in ten years. I had only had a layover in Paris on my way to the Cannes Film Festival the last time I was in France. I was lied to by someone who worked for the airline I was taking and thank goodness I knew enough French to understand and… ahem.. correct the problem. France has changed so much, I was shocked at how kind, helpful and interactive everyone was. We had four days in total to spend here, two days at the start of our trip and two days near the end of our 6 week trek. We explored the city during the day with the help of an excellent guide, Emmanuelle, whom we met at dinner our first night there. Our second trip on the return leg we reunited with our new friend, Emmanuelle, visited the Lourve, went to a birthday party and saw an old friend from C.A., Greg Corinth, who was in Paris visiting relatives.
Italy
We arrived at our first stop, Florence, by high speed train from Paris. We explored only in the evenings as the heat was pretty incredible during the day. After staying five days, we then headed down to Rome for an afternoon while we waited for our flight to the island of Sicily. We were met by our good friend, Giovanella at the airport and the adventure began immediately. If you have ever driven or ridden in a car in Italy, you know what I mean. Although we spent most of the week white knuckled, driving in the car, a week spent in Sicily was just not enough. Amazing doesn't even come close to describing it's treasure chest of spots. There simply weren't enough hours in the day to stop and pour over relics, take photos of architecture and art in all of the places we wanted to do so. We toured through some absolutely beautiful places like: Taormina, Caltagirone, Agrigento and Syracuse. Our friend, Giovanella and her family, gave us the grand tour and treated us to the best of everything. It made me fall even deeper in love with Italy and it's people. We then flew back to Rome to explore the eternal city. The fountains, buildings, ruins and piazzas must be seen and experienced by everyone. The beauty of this country is truly a global treasure which must be preserved.
Vatican City
Although this country / city is located within Rome it has a much different feel then the rest of Rome. The piazza, museum, cathedral and fountains are definitely worth the couple days we devoted to it. While in Rome, we stayed just outside the walls of the Vatican and passed through St. Peter's Square everyday.
Spain
From Rome we flew to Madrid. Our time in Spain was divided between Madrid, Barcelona and Cardona. We didn't exactly have a plan, but it worked out perfectly. We couldn't have done a better job had we gone to all of the toil and trouble of planning it months in advance. Our first full night in Madrid we saw the Real Madrid football game, (Be sure to bring a gas mask because the plumes of cigarette smoke can ruin a great night and the next few days, if you have allergies). Then, a few days later, we met up with Margaux, an old friend of mine who just so happens to be one of the few well published, American wine and food critics in Spain and she gave us two days of city tours and introduced us to many local people and cuisine styles too. Having spent a few days in amazing Madrid we were off to Barcelona, which is a beautiful city with a plethora of amazing architectural feats designed by Gaudi. We didn't have a lot of time in the city as we were on a mission to visit the countryside and Andorra. The only time we rented a car on this trip was to travel between Barcelona and Andorra. Magical Spain allowed us to fulfill another lifelong dream. Both of us had always wanted to stay in a medieval castle. The parador, (castle in Spanish), we stayed in can be found in historical Cardona.
Andorra
It is a beautiful mountain country, very small and wedged between France and Spain. It is pretty much only accessible by road so we drove in from Barcelona. The drive was a mere few hours, but it was some of the prettiest scenery on our trip. The mountains were calling to us the entire way. Mist covered some and others stood proudly into the clouds above. Our main goal in Andorra was to visit the amazing Caldea spa for my birthday, detox my throat, sinuses and lungs from the smokers and auto exhaust while relaxing, away from the busy cities where we had been spending a good portion of our time. We stayed in our timeshare, a chalet, which we had reserved many months prior. It was the off season so the restaurants, stores and streets were quite empty. It was a nice change. We enjoyed a few days exploring, tasting the local fare and driving around before we headed back to Spain, eager to stay in our first castle.
https://www.internationaltravel.ws/wp-content/uploads/2010/08/path-europe.jpg
404
600
naia
naia
2010-08-27 19:04:15
2010-08-27 19:04:15
Europe, A Quick Introduction