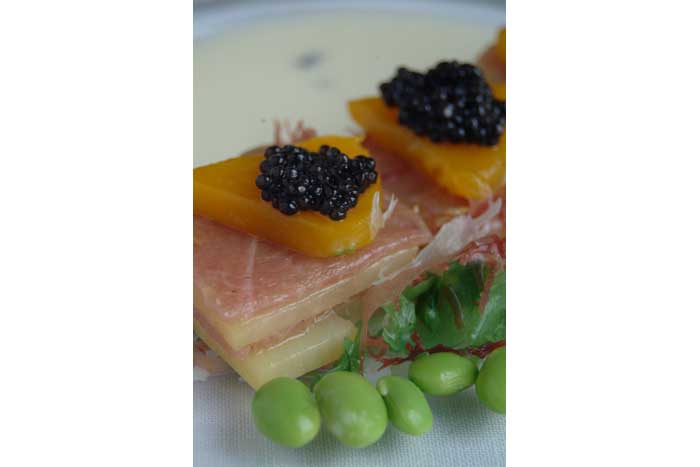 Located in the luxurious five star, award winning Derby Hotel Urban, Dëco is overseen by one of the country´s most exceptional Chefs, downtown Madrid native Joaquin Felipe Peira.  Pulsing with all the excitement of a modern-day cosmopolitan Madrid, Restaurante Europa Dëco is one of the most talked about centre city restaurant venues. Joaquin Felipe Peira´s penchant and enormous talent for multicultural, 21st century, urban-global-twist cuisine are obvious in his unforgettable inventions and presentations. And… the culinary stars of his fashion plates are the phenomenal raw market materials he has personally selected.
Joaquin & Margaux – Ear to Ear
Mar: What are some of your objectives for 2008?
Joaquin: Since we opened on February 5th, 2005, my point of view is, the 1st year is about doing, making & producing, (hacer). The 2nd year is positioning your restaurant or business, (positional). Now we are in our 3rd year, the maintaining, (maintainer).
Mar: Do you believe the culinary arts are an innate talent or that Chefs can study and practice?
Joaquin: One can study, learn the techniques, prepare formally and practice.
Mar: How do you define your cuisine and what is your culinary philosophy?
Joaquin: New tendency, urban multicultural, like in most capital cities, New York City, Barcelona, Sydney & Madrid.
Mar: What are the star ingredients at the moment?
Joaquin: Red tuna, Iberian Ham, Natural Extra Virgin Olive Oil and Corn Bread.
Mar: Where are you from and what are the origins of Peira, your maternal surname?
Joaquin: I was born in the Centre of Madrid and my mother is from The Pyrenees of Áragon.
Mar: What was the first recipe that you elaborated and where?
Joaquin: French fried potatoes at home.
Mar: From your experience, do you consider that men and women have distinct palate differences when they request their selections at a restaurant?
Joaquin: I believe it is individual tastes verses gender.
Mar: I have read that when designing your plates, you have been inspired by vanguard architecture?
Joaquin: Firstly, it is organization of the ingredients as they all have a function. Pyramids, squares, cubes, straight lines, geometrics, colors, textures and visual balance.
Mar: What are your plans for the Spring Season bill of fare?
Joaquin: Red tuna, wild mushrooms, fresh vegetables, fruits, fresh salad greens & herbs. Market and the Spring Season.
Mar: What are your dream trips?
Joaquin: Hong Kong and Paris.
Mar: What had been your motives and inspiration to study the culinary arts?
Joaquin: Secure formation for employment and continuing formation for growth & enhancement.
Mar: Tell us, I heard the Condé Nast Award for best Hotel 2007 was given to Hotel Derby Urban.
Joaquin: Yes, the 2007 Condé Nast Award for the best European Hotel.
Mar: What are some of the international projects that you have been involved with and which Chefs have you been teaming up with?
Joaquin: Firstly, Carme Ruscadella and I were at the Vanguard Japanese International Ecological Trade Fair AICHI EXPO in Tokyo. Additionally, I participated at the Norwegian Sea Products Council Event and at Madrid Fusion 2008 in January, I was on the Dessert Board of judges. My permanent projects also include Club Gourmet´s Corporate Clientel and Chef Paco Roncero and I have been doing numerous promotions for Spain´s olive oil industry and Iberian Ham producers.
Mar: How is your understanding of English?
Joaquin: Gastronomic vocabulary is good and the necessities which I have learned for travelling and communicating. Would you like to have lunch?
Mar: A Lite Lunch! A very lite lunch! At Europa Dëco, you wine and dine like royalty. The unforgettable lunch once again.
Chef's Specialties
White Wine: 2007 Conclasse from Sitios de Bodega D.O. Rueda
Fresh Home Baked Corn Bread
Hot out of the oven Grapes & Seeds Black Bread
Palate Opener Mini canapé Red Tuna with a Manchego Pisto Bed
Freshly caught Cockles (berberechos) Al Vapor on a bed of escarole, red oak leaf, radicchio, rucola & sprouts. Served with a Yellow Tomato & Golden Yellow Bell Pepper Gazpacho.
Seared Sea Bass with Marine Algaes & Tempura. Quite a Frank Gehry Concoction!
Red Wine: D.O. La Rioja Ysios 100% Tempranillo Grape Reserva 2002
Kobe filet mignon dotted with sea salt & light drizzle of extra virgin olive oil served with fresh aromatic field greens
Dessert Wine: Enrique Mendoza´s Moscatel De La Marina D.O. Alicante
Green & Orange Melon Sorbet
Joaquin´s Chocolate Sins with one Red Rose
Espresso
Contact & Location
Hotel Derby Urban
Carrera San Jerónimo 34
Metro Lines 1,2 & 3: Puerta del Sol or Sevilla
Book a Table: 91. 787. 7770
https://www.internationaltravel.ws/wp-content/uploads/2010/08/joaquin11.jpg
467
700
margaux
margaux
2010-08-26 05:32:23
2010-08-26 05:32:23
Dining Dëco Style with Joaquin Felipe Peira